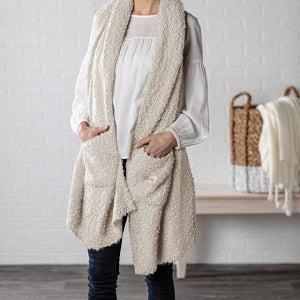 For the kind of meaningful comfort that travels, the Faith Giving Shawl in cream is an inspiring spiritual reminder that offers relaxed comfort anywhere like home, office, flight or on the open road. A giftable hug, let those you love snuggle into warmth from your heart to theirs. Enjoy the encouraging bookmark included with the shawl, and deep pockets that let you keep your must-haves close by for comfy ease. The calming, cream color of this piece highlights the unique texture of our cozy Giving Shawl fabric. And because it is knitted with warm-hearted softness, it's a giftable reminder of endless caring. One size fits most, and packages features the faith-filled message: "Sometimes we need to lean into our faith even more. This is a gentle reminder that we are not alone. Our faith comforts us in times of joy and sorrow. Find strength in your faith as it guides you with grace, love, courage, and compassion."
This shawl typically ships within 1 to 2 days.
Shop Great Gifts at MainStreet Mercantile.