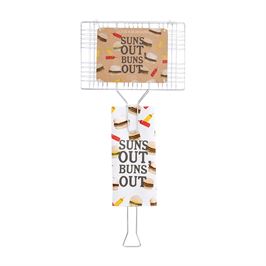 Suns Out, Buns Out. 2-piece set.
Stainless steel grill utensil arrives tied with printed cotton hand towel. this burger cooker set features: Set includes Utensil and towel Bun holder Printed hand towel "Suns Out Buns In"
Hand wash
Each Measures Bun Utensil approx. 29" x 13"
This set typically ships within 1 to 2 days.
Shop Great Gifts at MainStreet Mercantile.