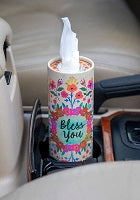 Car Tissues are what happens when cute and convenience collide! They fit perfectly in your cup holder for whenever you need a tissue...whether you're on a long road trip or just on your daily commute!
These tissues typically ship within 1 to 2 days.
Shop Great Gifts at MainStreet Mercantile.