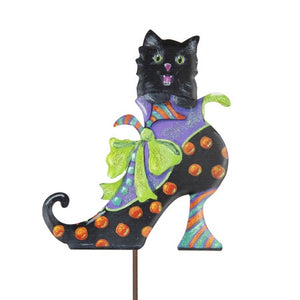 Cat in a Witches Shoe
Add a not so spooky cute little black cat in a witches shoe!
Your options are endless with this piece! It comes complete with a hanging loop and stake insert (and stake).
You choose if you want to place it on top of a stake in your garden or indoors in a decorative pot, hanging from a display base, or as a focal point in your DIY wreath or teardrop. Your possibilities are endless, and you get to be the designer!