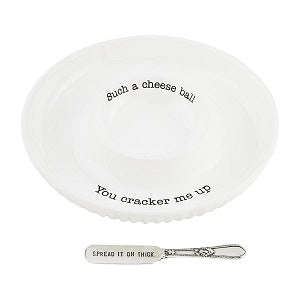 Spread it on thick with this cheese ball serving dish set. The two-piece set comes with a ceramic cracker dish. The dish surrounds a center well to hold a cheese ball. The dish features the phrasing "You cracker me up" and "Such a cheese ball". The tray comes with a silver-plate spreader that reads "Spread it on thick".
Dimensions dish 1 1/2" x 9 1/2" | spreader 5 1/2"
Care Instructions DISHWASHER SAFE MICROWAVE SAFE
This set typically ships within 1 to 2 days.
Shop Great Gifts at MainStreet Mercantile.