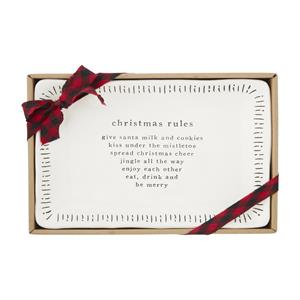 Follow the rules of Christmas with this Christmas Rules Tray. The ceramic sentiment tray features the wording "Christmas Rules: give Santa milk and cookies, kiss under the mistletoe, spread Christmas cheer, jingle all the way, enjoy each other, eat, drink and be merry". The tray features black line details on the rim.
Dimensions: 7 1/2" x 10 1/2"
Material: DOLOMITE
This tray typically ships within 1 to 2 days. Shop Great Gifts at MainStreet Mercantile.