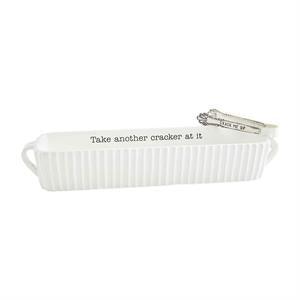 Crack your friends up with our Fluted Cracker Dish Set. The two-piece set comes with a fluted ceramic cracker dish. The cracker dish features side handles. The dish features the sentiment "Take another cracker at it". The dish also comes with stamped silver-plate tongs that read "Crack me up".
Dimensions dish 3" x 13 1/2" | tongs 4 1/2"
Care Instructions DISHWASHER SAFE MICROWAVE SAFE
This set typically ships within 1 to 2 days.
Shop Great Gifts at MainStreet Mercantile