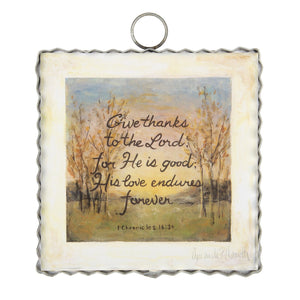 The Lord is Forever Mini Print
You'll be ready for every occasion with a unique assortment of decorative charms to display throughout your home. A simple way to transition your home frome season to season.
Collect Mini Gallery Art pieces for all of your favorite holidays. Easy to hang on a base or stake or set in an easel!  It can also be used on its own and set within your Table Decor or mantel decor. 
Materials: Metal
Dimensions: 

6" x 1" x 7"

This charm typically ships within 2 to 3 business days.
Shop Great Gifts at MainStreet Mercantile.