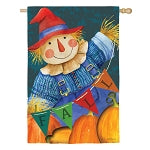 This Fall Fella Sarecrow flag will make a fun statement for the autumn season. With a watercolor feel and vibrant details, this suede flag will have your customers greeting guests and neighbors in seasonal style. This Suede Reflections flag is made of medium-weight, polyester suede that provides a soft and durable texture. Artwork is heat transferred onto the sun-blocking material so that it is easily viewed from both sides. The weatherproof poly-suede will not fray or fade with continued outdoor use.
This flag features a sleeve for use with any standard flagpole or stand, sold separately.
This flag typically ships within 1 to 2 days. Shop Great Gifts at MainStreet Mercantile.