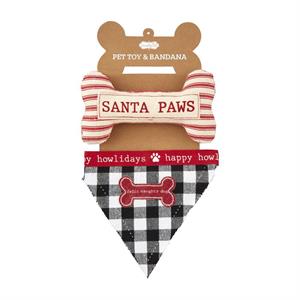 Give Santa's favorite yelper this Feliz Naughty Dog bandana and toy set. The two-piece set comes with a washed canvas dog bandana. The dog bandana features a black and white plaid pattern with a dog bone that reads "feliz naughty dog". The collar reads "Happy howlidays". The set comes with a canvas squeaker bone dog toy.
Dimensions: bandana 8" x 18" | bone 4" x 8"
Material: COTTON
This dog toy typically ships within 1 to 2 days.
Shop Great Gifts at MainStreet Mercantile.