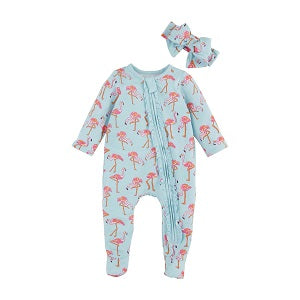 Your little sweetie needs this Flamingo Baby Sleeper Set. The two piece set comes with a knit bamboo footed sleeper. The sleeper features a blue background with pink flamingos throughout. The sleeper also features a cross-body zipper with ruffle details. The sleeper comes with a coordinating bow headband.
Size: 0-3M
Material: 95% VISCOSE MADE FROM BAMBOO 5% SPANDEX
Care Instructions: TURN INSIDE OUT MACHINE WASH COLD WITH LIKE COLORS
This set typically ships within 1 to 2 days.
Shop Great Gifts at MainStreet Mercantile.