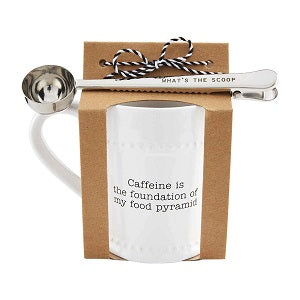 Just Brew it with our Food Pyramid Coffee Mug Set. The two piece set comes with a ceramic mug.
The mug features the sentiment "Caffeine is the foundation of my food pyramid". The mug comes with a stamped silver-plate coffee scoop with bag clip handle. The scoop reads "what's the scoop".
Material: DOLOMITE
Care Instructions: DISHWASHER SAFE MICROWAVE SAFE MAY GET HOT IN MICROWAVE
This mug set typically ships within 1 to 2 days.
Shop Great Gifts at MainStreet Mercantile.