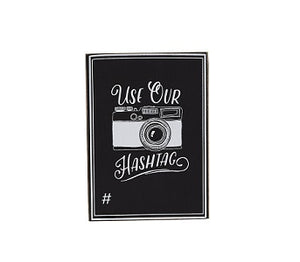 Sign Hashtag Hashtag Sign -
If you have a party or other event, you can use this cute sign to remind guests to use your hashtag for their social media posts. It is a chalkboard style, so you can write your own hashtag in, and the vintage style camera illustration is a nice touch. It stands using a dowel easel on back. Made by Mud Pie, this clever sign measures 10 by 7 inches.
This sign typically ships within 1 to 2 days.
Shop Great Gifts at MainStreet Mercantile.