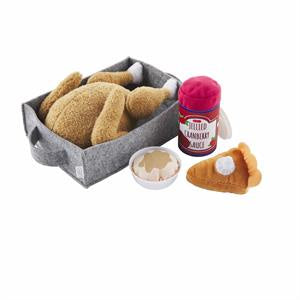 Holiday Feast Play Set
Let kiddos make believe their own Thanksgiving dinner with our Holiday Feast Play Set. The seven piece set comes with a felt roasting pan. The pan holds a long pile minky turkey with tear-off legs, removable cranberry sauce and can, minky pie and plastic bowl filled with mashed potatoes.
Dimensions    9 1/2" x 7"
Material    100% Polyester
Care Instructions    Spot clean only.
UPC Code    718540808603
This set typically ships within 1 to 2 days.
Shop Great Gifts at MainStreet Mercantile.