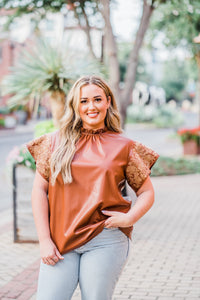 Our fun carmel faux leather top is going to be your next wardrobe showstopper, and don't worry this pleather is so comfortable! The tan ruffle sleeve and mock neck makes a statement that you are sure to get stopped over and over about your top! We love this top with jeans, shorts and don't forget the booties! The ways the style this top is endless!
Care Instructions to Follow: Hand Wash in Cold (Hand wash, by hand, no machine hand cycle)
Hang Dry DO NOT BLEACH
This top typically ships within 2 to 4 days.
Shop Great Gifts at MainStreet Mercantile