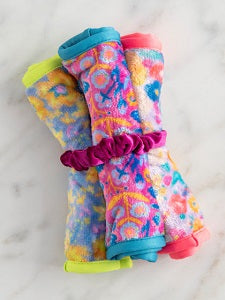 We all want to be more eco-friendly and produce less waste, but why not do it in a cute, fun way? Remove your makeup naturally with just warm water and our Makeup Removing Cloth Set! We packaged ours in a set of three boho-bright prints, because they don't need to be boring to work AMAZING! A scrunchie is a must for holding your hair back – so we included that too. Don't worry; it works with a lot of eyeliner! Make sure you grab a set for yourself while you shop for those on your gift list!
This set typically ships within 1 to 2 days.
Shop Great Gifts at MainStreet Mercantile.