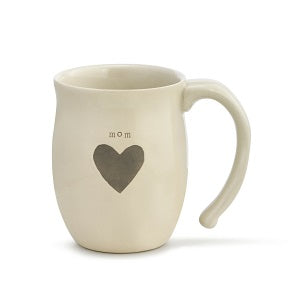 The Mom Heart Mug from the Warm Heart Collection will bring out the best feelings in mom every time she uses this uniquely-shaped mug.
Featuring the word "Mom" along with a gray heart below, this piece is made from stoneware with a hand-thrown and handmade feel, designed to wrap your hands around the mug to keep them warm on chilly days.
Comes with a ready-to-gift cloth bag with a drawstring and bears a sewn-on sentiment. To make the gift even more memorable, you can tuck an additional gift inside the mug, such as Mom's favorite treat, a photo or a letter.
Makes a thoughtful gift for her birthday, the holidays, or just as a surprise to let her know how much you care.
This mug typically ships within 1 to 2 days.
Shop Great Gifts at MainStreet Mercantile.