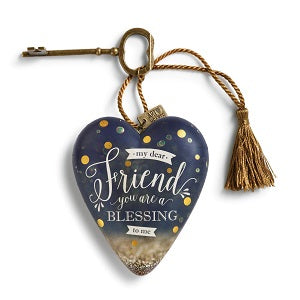 Art Heart Dear Friend The Art Hearts Collection features heart-shaped keepsakes that celebrate the meaningful bonds which exist between friends, family, and all the special people in our lives.
A violet-colored heart sculpture with small yellow circles all over the surface and a gray bottom. It has a universal message at the center extolling the joy of friendship. This is a whimsical piece of upbeat emotional magic that will brighten and home, shelf or special space.
These heartfelt designs in this totally unique format are perfect gifts to liven the holiday spirit and make those milestone moments even more memorable. Sentiment: "My dear friend, you are a blessing to me."
This art heart typically ships within 1 to 2 days.
Shop Great Gifts at MainStreet Mercantile.