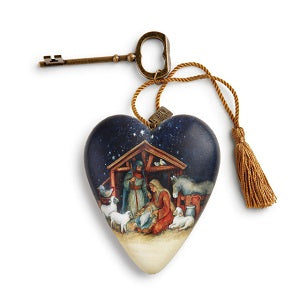 Holy Night Art Heart The Art Hearts Collection features heart-shaped keepsakes that celebrate the meaningful bonds which exist between friends, family, and all the special people in our lives.
A heart sculpture depicting a beautiful nativity scene with baby Jesus and the Virgin Mary. The top of the heart is dark blue and the bottom is a shaded cream. The Christmas Story depicted with beautiful elegance, beneath a cascading sea of stars on that meaningful night.
These heartfelt designs in this totally unique format are perfect gifts to liven the holiday spirit and make those milestone moments even more memorable
This art heart typically ships within 1 to 2 days.
Shop Great Gifts at MainStreet Mercantile