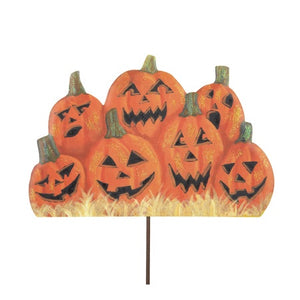 Pile of Jack O Lanterns
Hauntingly happy is the pile of traditional jack-o-lanterns, big, small, tall, and short, perfect for any Halloween yard. This pile of jack O Lanterns is upon a bed of hay that adds color and texture yard decor. There is an abundance of other Halloween porch decor that you can put with the jack-o-lantern pile to elevate your Autumn look.
Versatility is the name of the game with this piece! It comes complete with a hanging loop, stake insert (and stake), and easel stand attached.
You choose if you want to place it on top of a stake in your garden or indoors in a decorative pot, on an easel within your table decor, hanging from a display base, or as a focal point in your DIY wreath or teardrop. Your possibilities are endless, and you get to be the designer!
**Display elements are sold separately.**
Materials: Metal
Dimensions: 15"x5"x10"
Colors: Orange
Function:  Stake/Hang/Easel
Care Instructions: To extend the life of your purchase, apply a clear matte protective coating at the start of each season before exposing the product to outdoor elements. We recommend using Krylon UV-Resistant Acrylic Coating, which you will find at your local craft store or home improvement store.
This piece typically ships within 2 to 3 business days.
Shop Great Gifts at MainStreet Mercantile.