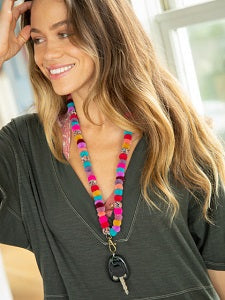 You can't help but be happy when you see pom poms – especially ones this cheerful and bright! Who needs a boring lanyard when you can have a Pom Pom Lanyard?! Also, if you tend to misplace your keys (you know who you are) … attaching them to this fun lanyard might just solve all your problems. If you know a teacher or student, please give this to them and make the world just a little bit brighter.
This lanyard typically ships within 1 to 2 days.
Shop Great Gifts at MainStreet Mercantile.