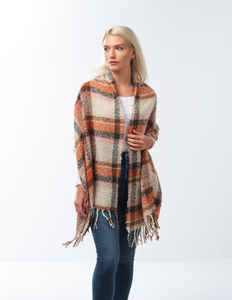 Scarf Wrap Cozy Plaid Harvest
The timeless plaid pattern adds a touch of classic style to any outfit, making it a versatile accessory for both casual and formal occasions.  This scarf is more than just an accessory; it's a warm embrace, a fashion statement, and your go-to companion for staying snug and stylish in the colder months. Elevate your winter wardrobe with the unparalleled softness and timeless charm of this exceptional scarf.
Multiple ways to wear

Blanket Stitching around edging

Super Soft Brushed Woven Fabric

Acrylic Fabric 100% 

72.75"L x 27.5"W. 

Fringe Detail
This scarf typically ships within 1 to 2 days.
Shop Great Gifts at MainStreet Mercantile.