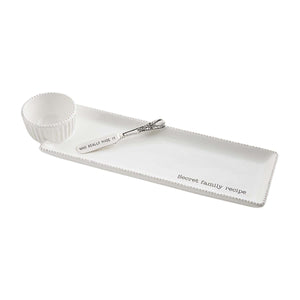 Display your secret family recipe with our Family recipe tray and dip bowl. The two piece set comes with a beaded tray with debossed sentiment "Secret Family Recipe". The serving tray comes with an attached fluted dip bowl. This set also arrives with silver-plate spreader that reads "Who Really Made It".
2-piece set. Beaded tray with debossed sentiment and attached fluted dip bowl arrives with silverplate spreader.
Dimensions: Tray 4 1/2" x 15" | Spreader 5 1/2"
Care Instructions: Dishwasher Safe, Microwave Safe
This set typically ships within 1 to 2 days.
Shop Great Gifts at MainStreet Mercantile