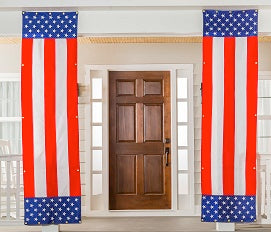 Dress up columns and entryways with this classic red, white, and blue striped panel. Perfect for porches and patios, this tri-colored panel shows off American spirit in bold style. Simply tie this design to any outdoor space to instantly elevate decor! Crafted from outdoor safe and weather-resistant 310 denier nylon, this rectangle panel can be used in a variety of ways to spruce up homes for Independence Day and beyond.
This flag typically ships within 1 to 2 days.

Shop Great Gifts at MainStreet Mercantile.