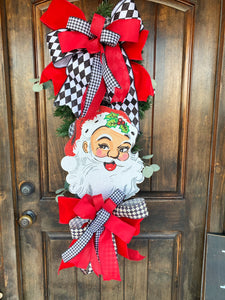 Swag Christmas Santa, Christmas Door Swag, Santa Door Swag, 
 This glittery Santa teardrop swag is a showstopper and ready to great your guests and add some curb appeal. The top of the swag has a large bow with luxury 4" velvet and black and white glitter ribbon. Lots of rich reds and pops of black and white, greenery picks and don't forget the large glittery foam Santa and followed up with another coordinating bow.
Placing your beautiful swag in a sheltered location outside, such as a covered porch, will preserve the beauty of this wreath longer.
My shop has a NO REFUND POLICY on wreaths. 
I will work with you the best that I can depending on situation.

This wreath typically ships within 1 to 2 days.
Shop Great Gifts at MainStreet Mercantile