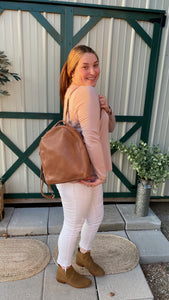 Tawny Genuine Leather Backpack
Whether you're navigating the urban jungle or embarking on a new adventure, our Genuine Leather Backpack is your reliable companion, embodying both rugged elegance and practicality. Its versatility seamlessly transitions from professional settings to casual outings, making it an indispensable addition to your wardrobe.
 Genuine Leather, 10"L x 12.5"H x 4"W
This bag typically ships within 1 to 2 days.
Shop Great Gifts at MainStreet Mercantile