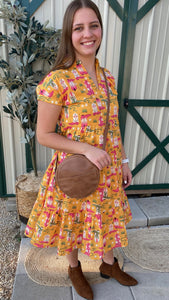 Tawny Genuine Leather Crossbody
Experience the epitome of sophistication and utility with our Genuine Leather Crossbody. Elevate your accessory game with a piece that reflects your discerning taste, celebrates the artistry of genuine leather, and adds a touch of refined elegance to your everyday life.Its versatility seamlessly transitions from professional settings to casual outings, making it an indispensable addition to your wardrobe.
 Genuine Leather, 8" L x 2" W x 8' H
This bag typically ships within 1 to 2 days.
Shop Great Gifts at MainStreet Mercantile