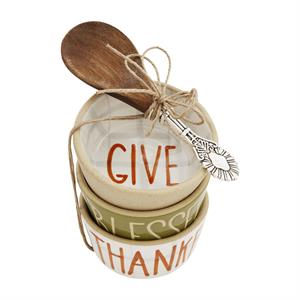 Our Thankful tidbit set would be the star of your Friendsgiving dinner.
The four piece set comes with three hand-painted tidbit dishes. The dishes feature unique phrasing including "Thankful", "Blessed" and "Give". Each tidbit dish features exposed details. The dish set comes with a wood and metal scoop.
This set typically ships within 1 to 2 days.
Shop Great Gifts at MainStreet Mercantile.