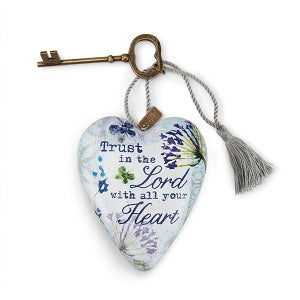 Art Heart Trust in The Lord Heart-shaped keepsake symbolizes the bond of friendship and family through meaningful sentiment and vibrant design. A gift-ready sculpture for someone special. Great gifts for celebrating milestone moments or just because. Comes in special packaging. Ornamental key to hang or stand with the attached key easel. Perfect for Valentine's day, anniversary, wedding or any day to show your love. Sentiment: "Trust in the Lord with all your heart." 
Trust In The Lord Art Heart By Art Heart Collection.
Made from high-quality resin, metal, paper and nylon,.
Measures 4" h.
This art heart typically ships within 1 to 2 days.
SHop Great Gifts at MainStreet Mercantile.